Original title: Super dry goods! The latest and most complete rules of the 2021 European Cup. Stadium. Time. Group. 1/8.1/4. Finals. Schedule
The 2020 European Cup, which has been watched by fans all over the world, has been postponed due to the impact of the epidemic. After 1 year to this year, but still named "European Cup 2020". Competition time: from June 12th to July 12th, 2021, for a period of one month. Through the European Cup qualifiers play-offs, Hungary, North Macedonia, Scotland and Slovakia successfully advanced, and all 24 European Cup teams were released. The latest and most complete European Cup schedule is updated below, and everyone can save it for easy watching.
To commemorate the 60th anniversary of the European Football Confederation, this tournament will be held in 12 cities in Europe using a tour without a host country, namely: Munich (Germany), Amsterdam (Netherlands) , London (England), Glasgow (Scotland), Dublin (Republic of Ireland), Bilbao (Spain), Rome (Italy), Copenhagen (Denmark), St. Petersburg (Russia), Budapest (Hungary), Bucharest (Romania), Baku (Azerbaijan) will bring a football carnival to the world. The semi-finals and finals will be held at Wembley Stadium in London.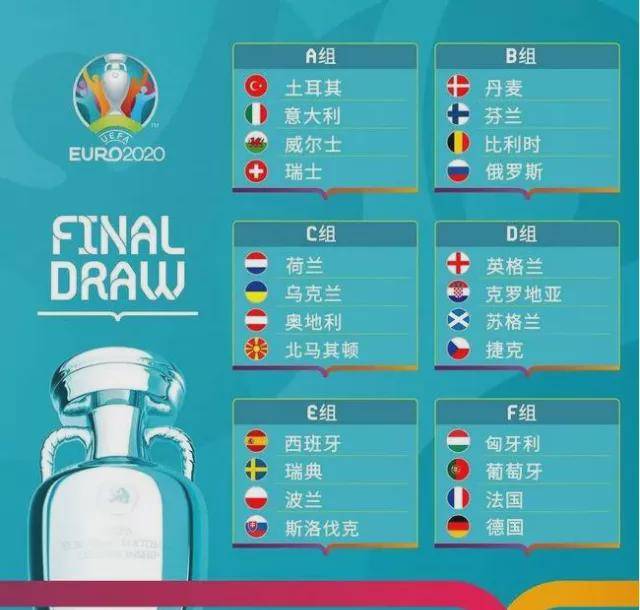 The top 24 teams in the 2020 European Cup are introduced as follows:
Group A: Turkey, Italy, Wales, Switzerland
Group B: Denmark, Finland, Belgium, Russia
Group C: Netherlands, Ukraine, Austria, North Macedonia
Group D: England, Croatia, Scotland, Czech Republic
Group E: Spain, Sweden, Poland, Slovakia
Group F: Hungary, Portugal, France, Germany
European Cup group stage Introduction to qualifying rules:
The top two of each group directly advance to the European Championship finals. The group stage is ranked according to the number of points. If two or more teams have the same points, they will be ranked according to the following rules in turn:
1. The points between each other's matches;
2. The number of goals scored between each other's matches;
Expand the full text
3. The number of goals between each other's matches;
4. The number of away goals between each other's matches;
p>
5. If there are still teams that have not been ranked after applying the 1-4 rule, then apply the 1-4 rule to compare the teams that have not been ranked. If such a cycle still cannot be confirmed, then According to the 6-10 rule to determine the ranking;
6. Group match goal difference;
7. Group match goals;
8. Group match The number of away goals;
9. Fair play score;
10. UEFA ranking.
The rules for qualifying to the top 16: the top two in each group plus the four best third-placed teams to qualify.
Return to Sohu to see more
Responsible editor: