Auto-play switch
Auto-play
Enter the father and daughter soldiers! Liu Guoliang takes his daughter to compete in the golf match
Loading...
Liu Guoliang and Shi Yuting
May 22, Beijing time, the Lecco Beijing Women's Classic Professional Amateur Matching Tournament opened in Beijing today. Former national table tennis coach Liu Guoliang and daughter Liu Yujie (to win) partnered with professional player Wang Mengzhu to feel the atmosphere of women's professional games.
In Liu Guoliang's view, golf is a very professional and international sport. "We are a family of sports. If children have talents and hobbies in this area, I think if we cultivate children's Interest is very good for our emotional communication." Liu Guoliang said, "As for why I choose golf? I think if I continue to play in the field of table tennis, under my aura and shadow, it is more difficult. Although The development of golf in China is not particularly good, but I think there is still a lot of development in the future. For example: women's golf has five Grand Slam tournaments a year, compared to table tennis only once in four years. Important Olympics, so if table tennis wants to win a Grand Slam, at least a cycle of four years; but golf has five games a year, and four years there are 20 games. In comparison, there are 20 games in four years. The chance to win a Grand Slam this time is the different professional experience of different sports. From this point of view, I am very envious of golfers. You can not only rely on the Olympics, but also rely on the professional arena to grow and develop. I think this is the most Happy."
Although 8-year-old Liu Yujie is young, she has already shown good golf talent. She has been praised by them in the interaction with professional players Sui Xiang and Shi Yuting before the game. As a father, Liu Guoliang also felt very gratified: "Let Winning and Winning get close to these professional players, which has a great impact on children. They can learn things by playing with them, and they can also learn golf etiquette outside the stadium. And professionalism, these are all developed from an early age."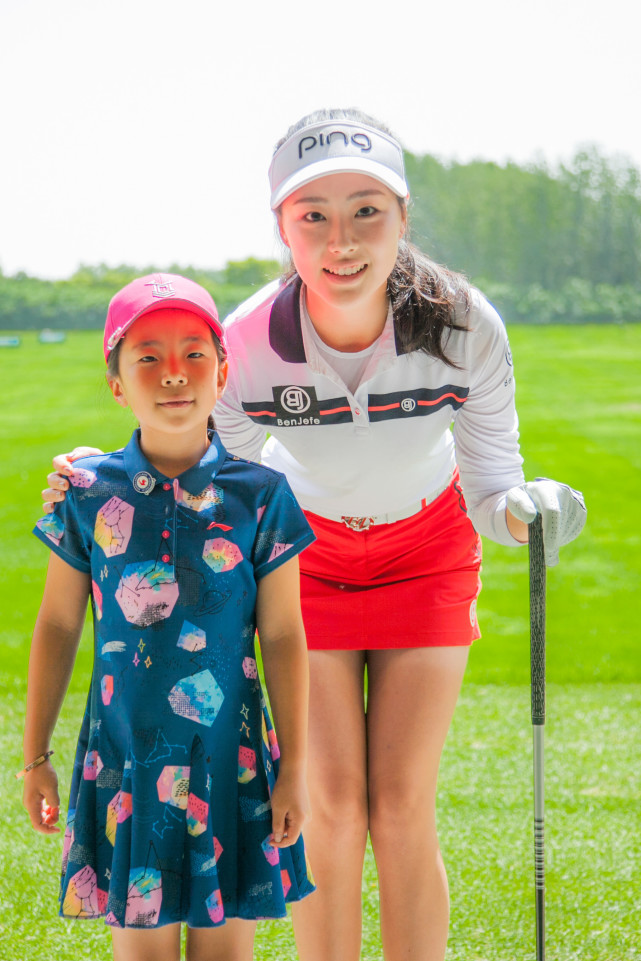 Sui Xianghe Yingying
At the same time, through contact with professional players, Liu Guoliang also feels the quality and Professionalism. During the communication with Ms. Li Hong, the managing director of the Women's China Tour, every player in the Women's China Tour started to offer player training courses from the beginning of his career, teaching them how to deal with sponsors, how to deal with the media, and how to deal with them. For fans, how to reflect a player's professionalism through various details. "Such a good atmosphere allows every player on the tour to grow up here. This is more than a boring preaching, which allows children to experience the qualities needed to be a professional player in advance."
In the future golf planning, Liu Guoliang said: "I have high expectations for her. I hope she can win the Grand Slam championship. I hope she can rank in the top ten in the world women's golf rankings and become the second Feng Shanshan in China. Talent and hard work. As a parent, I have also worked hard to create a good environment for her and feel the joy of professional sports. When she grows up a little bit, and her skills become more refined, I will let her take the women's Chinese tour and the women's tour It is her first step to become a Grand Slam!" At the same time, Liu Guoliang also said: "I also look forward to one day in the future to win and win glory for the country in the Olympics. This is my ultimate dream."
Beijing The professional amateur match of the Women's Classic is the romantic confession season in May. In such a bright and happy atmosphere, Liu Guoliang and his daughter Liu Yujie interacted with each other in love and confessed to each other in front of the camera. Liu Guoliang also revealed a little bit of his "careful thinking" about letting her daughter choose golf: "Now train her to play golf, and when she grows up, I will be old, and we can have a meal together in the coming weekends.Father and daughter spend a little longer time together and stay with me longer. Golf is a family sport that connects the relationship between me and my daughter. "