Original title: He Chao's 6 jumps and 4 turnovers broke out, creating the worst record in China's diving Olympics
Rugao Business Information Network News, August 16, Beijing time, Rio local time on August 15th, the Olympic Games launched the 10th day of the medal competition. In the men's diving 3-meter springboard preliminaries, China's 2015 World Championship champion He Chao made a mistake in 4 out of 6 jumps and missed the finals, setting the worst record for Chinese men's diving since participating in the Olympics. Another Chinese player, Cao Yuan, played steadily, ranking first in the preliminaries with a total score of 498.70 and successfully advanced. Zhang Wenxiu won a silver medal in the hammer throw competition, and the Chinese women's table tennis team defeated Singapore 3-0 in the semi-finals to enter the final.
For He Chao, the 3-meter springboard can be regarded as an advantageous event. At the 2015 Kazan Swimming World Championships, he won the men's 3-meter springboard championship, and he won the final The result is a high score of 555.05. In February 2016, He Chao also reached the final in the 2016 Diving World Cup in Rio. Although he didn't play well in the finals, he also scored 428.50 points and finally ranked sixth.
In the first jump of the preliminaries, He Chao, who appeared in the 8th place, played quite well. He finally got a high score of 85.00 points, ranking first among all the players. In the second jump, He Chao made a mistake when he fell into the water at the 407C with a difficulty coefficient of 3.4 (three and a half weeks of tucking inward). This jump only scored 51.00 points.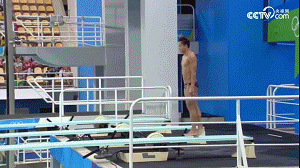 In the third jump, He Chao made a mistake to take off and the jump height was not enough. When he fell into the water, almost his entire body entered the water horizontally. The failed action made He Chao only scored 27.75 points. He Chao successfully completed the 4th jump and got a high score of 91.00. As long as the next two jumps continue to work hard, there is still a chance to make a comeback and reach the finals.
In the 5th and 6th jumps, He Chao made a mistake again, with only 64.80 points and 60.80 points respectively. The final total score is 380.35, which is only 9.55 points away from the 18th place in the semi-finals.
Looking back at the entire game, perhaps He Chao's biggest problem is the psychological adjustment after the mistake. After the mistake in the second jump, he failed to adjust his mentality and the rhythm of the game in time, which directly led to a serious mistake in the third jump, and the ranking fell to 27th. Although he did not give up the hope that he had a high score of 91 points in the 4th jump, the consecutive errors in the last two jumps were still his performance in not being able to withstand the pressure. Missing the semi-finals, the Chinese men's diving record has the worst record since participating in the Olympics. The gold medal may not be important, but how to adjust and play to the level under heavy pressure is worthy of all athletes to temper slowly. (Editor in charge: Alex)
Return to Sohu to see more
Editor in charge: