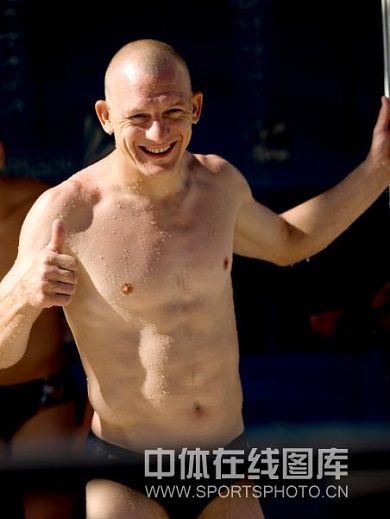 Sohu Sports News Chinese men's stations have always had no shortage of opponents. Judging from the development of men's stations in the world in recent years, the status of Chinese men's stations has begun to shake. Tian Liang's retirement and Hu Jia's gradual fading out have lost the Chinese team's dominance in the project. Since the 2007 Melbourne World Championships, the Chinese men's station has entered a period of decline, although it has 10 meters like Zhou Luxin and Lin Yue. Taiwan star, but the problem of playing has always plagued them. In the 08 Olympics and World Cup, the men's singles 10-meter platform became the only gold medal lost by the Chinese team. Let's take a look at what kind of opponents Chinese men's stations have encountered.
"Living fossil"-Sautin
Sautin is the world's most comprehensive top diving athlete, known as the "living fossil" in the diving world. Since he participated in the Barcelona Olympics in 1992 and won the bronze medal in the men's three-meter springboard, he has been out of control. His grievances and grievances with the Chinese men's team began and continue to this day. He has always been the main opponent in the Chinese men's springboard event. , He has contended with different generations of Chinese first-line masters including Xiong Ni and Tian Liang. Be gifted The reputation of "Diving Czar".
In the 10-meter platform of the 1994 World Championships in Rome, Sautin emerged as a force and defeated Sun Shuwei, the leader of Chinese men's Taiwan at the time. At the 1996 Atlanta Olympics, he was in full swing and won the 10-meter platform again. The champion became the first Russian or former Soviet diver to win the men's platform gold medal in the Olympics. At that time, his Chinese opponent was the immature Tian Liang. But by the 1998 Perth World Championships, Sautdin's state reached its peak, both technically and in difficulty of the action, combined with the brave state of the time, this time he defeated China that had grown up at that time. Tian Liang, the first man of the team, won the championship. Since 2000, due to age and physical reasons, Sautin has gradually turned his main item towards the springboard.
[1] [2] [3] [4] [5] [6] [Next] (Editor in charge: Lan Kehui)
[Let me say a few words]