The Dream Team is expected to win all the gold medals in diving
The last diving competition day will produce two gold medals, namely the women's 3-meter springboard and the men's 10-meter platform. The women's 3-meter springboard is the dominant event of the Chinese team. Gao Min, Guo Jingjing, Wu Minxia and He Zi have all created their own era. Today, Shi Tingmao has successfully succeeded and carried the banner. She has won the Olympic Games, World Championships, and World Cup. The champion, only one Asian Games champion, will achieve the grand slam.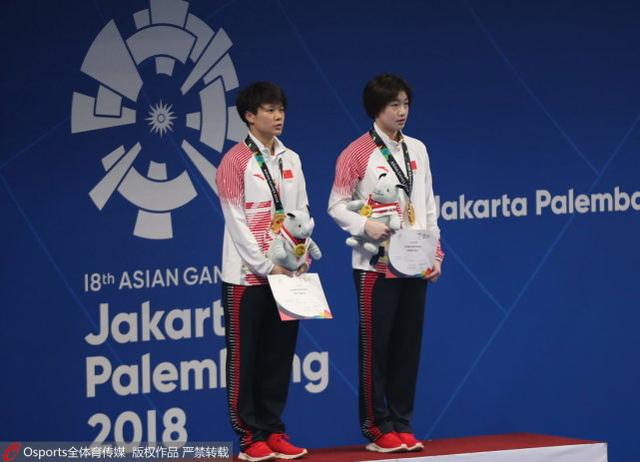 Men's 10-meter platform, Qiu Bo has completed three consecutive World Championships, and has the reputation of "difficulty king". In the team trials, Qiu Bo was second to none in terms of difficulty and quality of completion, and successfully qualified for the Asian Games. And Yang Jian had the last laugh in the competition with Chen Aisen and Yang Hao, and will fight side by side with Qiu Bo.
The four national table tennis generals are looking forward to the finals to take the crown and Asia
The table tennis competition has entered the final day. The four participating Chinese team players have successfully advanced to the semi-finals of singles, the national table tennis men's singles will hit five consecutive championships, and the women's singles will hit the Asian Games for six consecutive championships.
Fan Zhendong and Chen Meng will face South Korean players Lee Sang-soo and Tian Zhixi in the men's and women's singles semifinals first in the morning. In the afternoon game, Wang Manyu and Lin Gaoyuan will face Singapore's Yu Mengyu and Iran's Alamyan respectively.
At 5 pm, the women's singles final will be contested. Since participating in the Asian Games in 1974, the national table tennis women's team only lost at the 1994 Hiroshima Asian Games. Once a women's singles championship. Among the 10 women's singles championships won by the women's team, 8 were achieved by winning the championship and runner-up.
At 6 o'clock in the evening, the men's singles final will be staged. As of this Asian Games, the Chinese team has won a total of nine Asian Games men's singles championships. Since the 2002 Busan Yayu Conference, the Chinese team has achieved four consecutive Asian Games men's singles championships with the outstanding performance of Wang Liqin, Wang Hao, Ma Long and Xu Xin. . If it can win another 2 gold medals, the national table tennis team will win all 5 gold medals in this tournament.
Preview of key events
17:00 Women's Table Tennis Finals
17:00 Women's Basketball Finals China-Korea-Korea United
17:30 Women's Volleyball Final China-Thailand
18:00 Men's Table Tennis Finals
19:30 Men's Football Final Japan-Korea
p>
19:30 Basketball Men's Basketball Final China-Iran
20:00 Women's Diving 3m Springboard Final
22:00 Men's Diving 10m Platform Final
As of the 13th day of the medal list:
Return to Sohu, See more