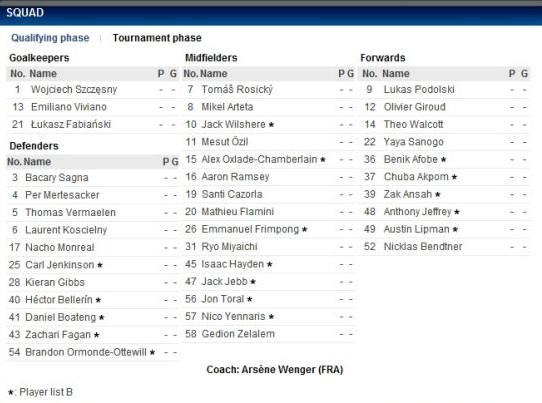 Screenshot of UEFA official website
On the evening of September 4th, Beijing time, UEFA's official website announced the list of teams participating in the 2013-14 UEFA Champions League group stage. In the Arsenal squad, the German international Özil and Ozil, who joined before the transfer window closed, Italy's national goal Viviano is on the list. Other key players such as Cazorla, Koscielny, Giroud and Wilshere, as well as two other new aids, Sanogo and Flamini, are also successfully selected. Bendtner, who was regarded as the main cleaning object, also unexpectedly entered the list. It is worth mentioning that the four first-team players like Wilshere, Chamberlain, Jenkinson and Flympon meet the registration requirements for the B list, so they enter the B list to make room for other players to enter the A list.
In the UEFA Champions League play-offs, Arsenal easily defeated Fenerbahçe with a total score of 5-0 in the two rounds to enter the Champions League main match, completing 16 consecutive seasons of reaching the Champions League main match. As the first team in the group stage draw, Arsenal was finally divided into Group F. In the same group, there are French runner-up Marseille, Bundesliga runner-up Dortmund and Serie A runner-up Naples, which is a veritable death group. Arsenal's first game was an away challenge to Marseille on September 18. The subsequent schedules were VS Naples at home, VS Dortmund at home, Dortmund away, VS Marseille at home and Naples away.
Arsenal Champions League A list:
Goalkeepers: Szczynski, Viviano, Fabianski, Damian Martinez
Defenders: Sarnia, Mertesacker, Vermaelen, Koscielny, Monreal, Gibbs
Midfielder: Rosicky, Arteta, Özil, Ramsey, Cazorla, Flamini, Miyaichi Ryo, Zelalang, Esfield, Gnabry
Forwards: Podolski, Giroud, Walcott, Yaya Sanogo, Bendtner
List B:
Defenders: Jenkinson, Bellerin, Daniel Boateng, Fagan, Hayden, Otterville
Midfielder: Wilshere, Chamberlain, Flympong, Jeb, Toral, Yanneris
Forwards: Afby, Akpon, Anza, Jeffrey, Lipman
(Koala)